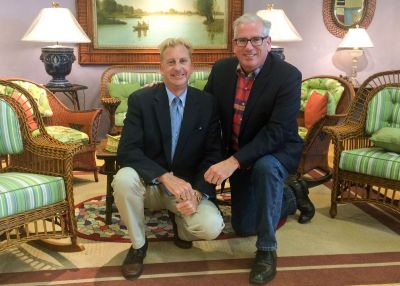 Q: How did you develop an interest in Antique Wicker?
A: We've both been surrounded by wicker on porches here and there since we grew up. The Wakefield Rattan Company, where wicker was first made, was about an hour from our homes, it later merged with the Heyward Company in Gardnier MA. And became Heyward Wakefield Wicker, a name that is synonomous with fine wicker today.
Q: What is the allure of wicker to you?
A: To us wicker is more than just a collection of furniture, but part of a romantic lifestyle of the early part of this century. We like to think of the sweeping porches with lawns stretching down to the sea or cozy lodges where chic couples languished over their drinks on a beautifully appointed porch.
Q: Do you specialize in individual pieces or suites of wicker.
A: Both really, we spend a great deal of time working on putting together complete sets of wicker from settees and chairs to coffee tables teacarts, side tables and lamps. But we also focus on really rare pieces like wicker mirrors, picture frames and dramatic plant stands.
Q: Where do you find your inspiration?
A: We go back to the source, and have collected all the original catalogues from the Heyward Wakefield Company that detail how the sets were assembled and give us original color samples to follow to restore the pieces to their original state.
Q: You often see wicker that is weather beaten and in need of repair, how do you handle this.
A: When a piece comes into our workroom the restoration process begins. We strengthen the frame and then, restore the original finish where necessary. Upholstery is also a big part of what we do. We choose fabrics that are in the spirit of what once was, and with a modern point of view, select sunbrella fabrics that can withstand the weather.
Q: How would you describe the ultimate goal of your business?
A: We like to think that we offer our clients suites of wicker and special pieces that are Ready for the next 100 years.