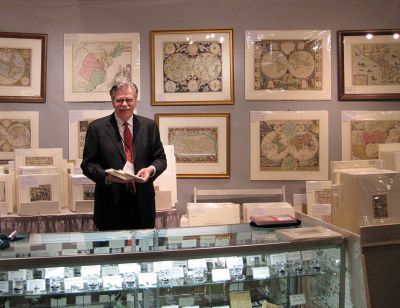 Q.  You are certainly two of the premier experts on Medieval Manuscripts in the United States. What drew you to this specialty?
A. Interest in illuminated manuscripts and antique maps began in college and grew significantly with extended travel to Europe, Turkey and Asia throughout the 1960's. Charles opened the first shop while completing an MBA at Wharton Graduate School, University of Pennsylvania in 1971, and the company maintained an open gallery through the 1970's. We have been private dealers since 1980, available by advance appointment, and participating in shows and charity events across the country each year.
We have presented numerous lectures at book and antique shows, and on TV - most recently providing some of the manuscripts for use by the FOX Network's "Birth of Jesus", and appearing on HGTV's Collectible Treasures.

Q.  Can you briefly describe how these manuscripts were created and by whom?
A. During the Medieval & Renaissance period, beautifully hand-written books (manuscripts) were lavishly decorated (illuminated) for use not only by the Church, but also for the select few of the laity who could afford them.
Books of Hours (personal prayer books) were the Medieval Bestseller – produced from the early 1200's to mid 1600's. More Books of Hours were made during this period than the Bible! They were commissioned for use by a devout and status-conscious society and are not only works of art, but also cultural documents of their time. They reveal a unique combination of sacred and secular imagery - made of the finest materials, by the best craftsmen, for a small audience that could both appreciate and afford them.
How did one acquire these very expensive books? It was a far cry from simply visiting a bookstore, perusing through volumes of books, selecting one to purchase & taking it home. In the earlier middle ages, most book production was done at the scriptoria of monasteries. By the 15th century, professional workshops in Western Europe & England specialized in the laborious task of scribing and painting these exquisite prayer books.
The cost was determined by the amount of decoration the owner selected – the number of miniatures (small paintings), decorated borders, illuminated initials, the number of extra prayers, etc. The paint used to decorate manuscripts and paint miniatures came from a variety of sources including oxidized metals as well as vegetable and animal matter in a tempera base. The prospective owner was often expected to pay for his book in advance – even though it might be years before its completion!!
Q.  What does it feel like to look back into the world of the 13th century from a 21st century point of view?
 A. In a world of cell phones, social media, digital imaging, fast food, fast cars, instant, instant, instant...it is somewhat cathartic to look back to the 13th through 15th centuries and appreciate the time and incredible talent involved in producing just one single leaf. Numerous talented people were involved in the making of a manuscript Bible or Book of Hours.
From the preparation of the vellum to the finished book was a very lengthy process. The acquisition of the materials required to produce what is truly a work of art by many, is in itself impressive. Lapis lazuli which was required to make the deep intense blue found in the early leaves was only available in present-day Afghanistan – a treacherous journey at that time.
13th century pocket Bibles (made so they could be carried in a pocket during the crusades) were meticulously scribed in such a minute hand – sometimes 14 lines to the inch! Each and every word was rechecked to insure that the Bible had been copied exactly. This was a very tedious job and mistakes did happen. Often the correction was noted in the margin, sometimes in a decorative manner, but usually the text was written with a box surrounding it – meaning it was officially corrected.
Q.  How should you frame and care for an illuminated manuscript?
A. Anything which touches the manuscript should be acid free. We use a double mat, which is completely archival and acid free. It is 100% cotton, and also chemically buffered to retard the acids in the atmosphere. The leaf is attached using archival materials as well. 
Light is an enemy of antique prints and original art. We recommend using UV filtering glass or UV Plexiglas when framing. We still recommend that the item not be placed in direct sunlight or high intensity fluorescent/incandescent light, even with the UV filter.
The final enemy is moisture. Under normal ambient air-conditioned surroundings, this is not a particular problem, but works of art on vellum or paper should never be hung near a source of high moisture.
Beyond that the vellum/paper and pigments are remarkably stable. They have, after all, survived for hundreds of years.

Q. What is the fascination with antique maps? Why do people collect them?
A. The world of antique maps is multifaceted and truly fascinating. Maps provide a tangible visible image of a portion of the world as it was thought to be at particular time in history.
People collect them for a number of reasons: genealogy, history, beauty. Some people are drawn to them for personal reasons – to document the genealogy of their family, as a memento of places where they have lived or traveled, or a collection documenting the changes in population and political structure of a home state. Others collect around historic themes, such as maps of the discovery and exploration of the New World or Maps of the Revolutionary War era.
The era of late 1500's through the 1600's is a golden age for cartography, and maps of this period by major cartographers such as Ortelius, Mercator, Hondius, Blaeu or Janson, in particular, can be extremely decorative, with elaborate cartouches and embellished with sailing ships and mythical monsters. That factor alone may shape a collection, as may collect the output of a single famous mapmaker.
Many antique maps are quite inexpensive; some are exceptionally scarce and desirable, thus very expensive. Since antique maps are available in a vast price range and from a long period of about 500 years of production, an individual can tailor a unique personal collection.